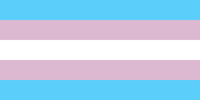 The Transgender Pride flag was designed by Monica Helms, and was first shown at a pride parade in Phoenix, Arizona, United States in 2000.
The flag represents the transgender community and consists of five horizontal stripes, two light blue, two pink, with a white stripe in the center.
Monica describes the meaning of the flag as follows:
| | | |
| --- | --- | --- |
| " | The light blue is the traditional color for baby boys, pink is for girls, and the white in the middle is for those who are transitioning, those who feel they have a neutral gender or no gender, and those who are intersexed. The pattern is such that no matter which way you fly it, it will always be correct. This symbolizes us trying to find correctness in our own lives. | " |
Other transgender symbols include the butterfly (symbolizing transformation or metamorphosis), and a pink/light blue yin and yang symbol is also used.
Alternative design
Jennifer Pellinen created an alternative design in 2002. The colors on the flag are from top to bottom: red, light purple, medium purple, dark purple, and blue. The red and the blue represent male and female. The 3 purple stripes represent the diversity of the TG community as well as genders other than male and female. The flag is public domain.
See also