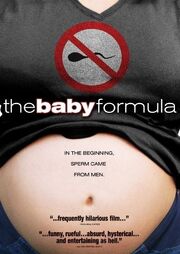 The Baby Formula is a Canadian mockumentary film, which premiered May 22, 2009 at the Inside Out Film and Video Festival in Toronto, Ontario, Canada.
Directed by Alison Reid, the film stars Angela Vint and Megan Fahlenbock as Athena and Lilith, a lesbian couple each pregnant with the other's baby through an experimental stem cell procedure that created artificial baby from their DNA.
The film's cast also includes Rosemary Dunsmore, Dmitry Chepovetsky and Maggie Cassella.
Summary
Two adventurous women in love are desperate to have their own biological child. They take a chance on an experimental scientific process and make a baby from their own stem cells. Pregnant with humor and unexpected twists, their journey ultimately confirms that all life is a gift and all families are crazy.