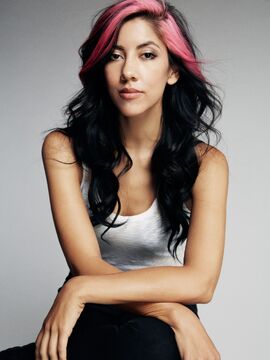 Stephanie Beatriz Bischoff Alvizuri (born February 10, 1981) is an Argentine-born American actress best known for playing Detective Rosa Diaz in the FOX comedy series Brooklyn Nine-Nine.
Early life
Beatriz was born in Neuquén, Neuquén Province, Argentina, the daughter of a Colombian father and a Bolivian mother. With her parents and a younger sister, she arrived in the United States at the age of three. She grew up in Webster, Texas and attended Clear Brook High School. She graduated from Stephens College in 2002 and moved to New York City to pursue acting. In 2010, she moved to Los Angeles, where she currently resides.
The distinguishing scar on her right eyebrow came when she tripped on a Lego brick when she was 10.
Personal life
In July 2016, Beatriz revealed via Twitter that she is bisexual.