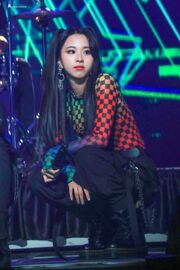 Son Chaeyoung is an idol from the K-pop group Twice. Born in April 23, 1999. Chaeyoung's English name is Katarina. She loves to draw. She's lesbian. We're sure of it. I mean, she's just SO gay. Like SUPER gay.
LGBT Features
She has recommended gay songs at a current time where fans were disappointed, due to a lack of song recommendations
Illegally downloaded the movie called 'Carol', a lesbian film
Wallpaper of Winoa Ryder, known for being 90's gay girl crush
Performed 'Born This Way' along with Jeongyeon, Mina and Nayeon
Did a cover of 'Boyfriend' by Justin Bieber and did not change the 'she' pronouns
Supports an openly gay Dutch pop-singer named Wouter Hamel, went to his concerts and invited him to a Twice concert.
Painted a female nude body on one of her nails.
Is rumored by many people in the fandom that she is in love with her fellow member Myoui Mina.