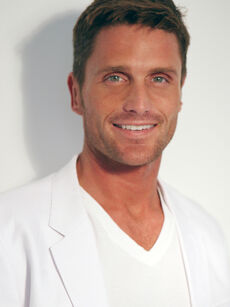 Reichen Lehmkuhl, (born Richard Allen Lehmkuhl; December 26, 1973) is an American former reality show winner, model, and occasional actor. A former United States Air Force officer, he is best known for winning season four of the reality game show The Amazing Race with his then-partner Chip Arndt, and for his much publicized 2006 relationship with pop singer Lance Bass.
Early life
After Lehmkuhl's parents, a policeman and a nurse, divorced when he was five, his family moved to Norton, Massachusetts, and his mother remarried. Sometime after 2002, he changed his first name legally from Richard to Reichen.
Lehmkuhl graduated from the United States Air Force Academy. He has since advocated for gay rights in the military as a spokesperson for Servicemembers Legal Defense Network.
The Amazing Race
Lehmkuhl was working simultaneously as a physics teacher at Crossroads School for the Arts and Sciences, flight instructor and model in Los Angeles when he was approached by a casting director for The Amazing Race. Lehmkuhl and Chip Arndt were a couple during the competition but have since split. Lehmkuhl moved to Dallas, Texas briefly after his win on The Amazing Race but before all episodes had been broadcast. Reichen's spending habits at that time caused speculation that he had won The Amazing Race — and that he and Arndt had broken up. During the show, the couple was typically described as "Married" in the subtitles that are used to illustrate the relationship between team members (other teams being, for example, "Best Friends" or "Father-Daughter").
Personal life
On July 2006, former 'N Sync band member Lance Bass told People Magazine that he is gay and in a "very stable relationship" with Lehmkuhl. The couple broke up in January 2007. Bass said they remained "good friends".