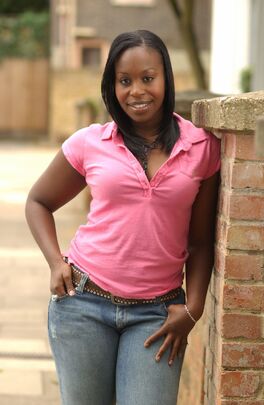 Naomi Julien was a fictional character in the popular BBC soap opera EastEnders. She was played by Petra Letang and first appeared in the soap on 15 August 2005. It was reported on 19 January 2007 that she will leave the show later in 2007, and her final scenes were broadcast on 24 May 2007.[1]
History
Naomi arrived in Albert Square as Sonia Fowler's nurse friend. She lived with Dot and Jim Branning, then moved in with Garry Hobbs and Minty Peterson.
Garry fancied Naomi and they once shared a kiss, but Naomi started to develop romantic feelings for Sonia. Sonia told Naomi that she was going through a rough patch with husband Martin Fowler and was considering a trial separation from him. Naomi tried to console Sonia and they ended up kissing, but Sonia regretted it straightaway. Martin blamed Naomi for spoiling the Fowlers' marriage, and the pair became enemies.
Naomi initially accepted that Sonia still loved Martin and remained friends with Sonia despite what happened. Despite this, in March 2006, Sonia left her husband, and went to live with Naomi.
After a short 'honeymoon period', Sonia and Naomi started to argue about Sonia and Martin's ongoing battle to become their biological daughter Rebecca's legal guardians in case of her adopted grandmother Margaret's death.
After Sonia prioritised Rebecca over Naomi, Naomi threw Sonia out and they split up.
Since then, Naomi joined Dr. May Wright working at Albert Square's surgery, and planned to buy a house with Garry and Minty. Naomi was soon accepted for a job at the local child hospital. When she finally found out May was taking Manju Patel's pills, Naomi agreed to keep quiet but May didn't believe she would so she planted the pills on Naomi and blamed her for the pill taking. May told Naomi if she didn't leave Walford she would make the phonecall that would ruin the career for which she had been preparing for three years. Naomi pulled out of the sale of the flat and left the Square even though Garry, Minty and Dawn Swann tried to get her to bring May down. Naomi left on 24 May 2007.
References
↑ "Letangoed!", The Mirror. URL last accessed 2007-01-19
External links