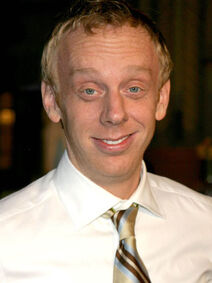 Michael White (born June 28, 1970) is an American writer, actor, and producer for television and film and the winner of the Independent Spirit John Cassavetes Award for Chuck & Buck.
Early life
Born in Pasadena, California, White attended Polytechnic School and Wesleyan University. White's father is the Reverend Dr. Mel White, a former speechwriter for Religious Right figures such as Jerry Falwell and Pat Robertson. White is openly bisexual.[1] His father, meanwhile, came out as homosexual in 1994.[2]
Career
White was a writer and producer on Dawson's Creek and Freaks and Geeks and wrote and acted in the films Chuck & Buck, The Good Girl, Orange County, School of Rock and Nacho Libre. He also had a role in the 2004 remake of The Stepford Wives.
He frequently collaborates with actor/writer Jack Black on films. Together they formed the production company Black and White, which closed in 2006.[3] White is not a fan of classic rock, but he wrote The School of Rock (2003) specifically so Black could perform his own favorite rock music.[4]
White made his directorial debut with the self-penned Year of the Dog at the 2007 Sundance Film Festival. Mike is a vegan animal rights supporter [5] and received an award from animal rights group PETA for his film Year of the Dog.
Filmography
Year
Title
Notes
1998
Dead Man on Campus
Writer
1998-1999
Dawson's Creek
Writer, Producer, Creative Consultant
1999-2000
Freaks and Geeks
Writer, Supervising Producer
2000
Chuck & Buck
Writer, Actor
2001
Pasadena
Creator, Writer, Executive Producer
2002
Orange County
Writer, Actor
The Good Girl
Writer, Actor
2003
School of Rock
Writer, Actor
2004]]
Cracking Up
Creator, Writer, Executive Producer
2006
Nacho Libre
Writer, Producer
2007
Year of the Dog
Director, Writer, Producer
2009
Them
Writer
2010
School of Rock 2: America Rocks
Writer
References
External links