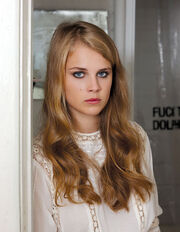 Marika Louise Hackman(born 17 February 1992) is an English vocalist, multi-instrumentalist and songwriter. She is considered to fall within the alternative and English-folk genres. As of August 2019, Hackman has released a mini-album, That Iron Taste (2013), and three full-length albums: We Slept at Last (2015); I'm Not Your Man (2017); and Any Human Friend (2019). She has also released four EPs: Free Covers (2012), Sugar Blind (2013), Deaf Heat (2014), and Wonderland (2016).
Early life
Hackman was born in Hampshire, England and raised in Selborne and Devon.[1][2][3] Her mother and Finnish father met during their work as animators.[4] Hackman watched little television as a child. She and her older brother, Ben (a dance music producer who releases material under the name "Hackman"), were instead encouraged to find other creative outlets. Hackman is a self-taught guitarist and began learning when she was 12. She had lessons in piano from the age of 4, and lessons in the bass guitar and drums from the age of 10.
She received a scholarship to attend Bedales School as a day pupil from ages 11 to 17, where she met and befriended model Cara Delevingne.[5] Together, they formed a short-lived cover band called "The Clementines",[6] with Hackman playing drums and Delevingne playing guitar and singing. Hackman performed at Mulberry's Park Lane launch dinner, celebrating the release of Delevingne's collection in February 2014.[7]
At 18, she moved to Brighton, England, where she studied art foundation for a year and planned on earning a degree in fine arts. Instead, she later chose to pursue music full-time.