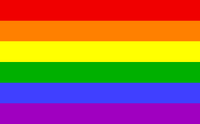 Welcome to the LGBT Project, a website which aims at providing factual, unbiased and down-to-earth information about lesbian, gay, bisexual and transgendered people.
Currently our project has 7,688 articles.
National Coming Out Day is a civil awareness day internationally-observed on October 11 for coming out and discussion about LGBT issues. It is observed by members of the LGBT communities and their supporters.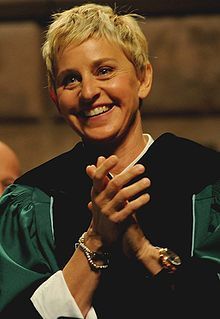 Ellen DeGeneres
American comedian, television host, actress, writer, and producer
... that during

action by the UK Gay Liberation Front

(GLF) to disrupt a Christian morality campaign in 1971, a GLF "bishop" began an impromptu sermon urging people to "keep on sinning"?
... that the American Psychiatric Association removed homosexuality from its list of official mental illnesses in 1973? And that the American Psychological Association followed suit in 1974?
... that Jóhanna Sigurðardóttir became the world's first openly gay head of state in the modern era on February 1, 2009?
... that Men who have sex with men are not currently allowed to donate blood in the United States, Austria, the United Kingdom, Finland, or Denmark?
... that in her 1992 documentary film Nitrate Kisses Barbara Hammer filmed an elderly lesbian couple making love as part of an exploration of the repression and marginalization of LGBT history?
"

We in America have sexism, racism, homophobia -- we all have got to come to grips with our isms. Black people have isms too. So let's all admit we've got them, and then we can do something about them.

"

—Joycelyn Elders, former Surgeon General of the United States
Copy-edit new articles from English Wikipedia;
De-link red Wikipedia links that have no bearing on LGBT issues;
Add new articles of your own that pertain to LGBT issues and interests;
Check and improve verifiability and correctness, add sources of information;
Improve neutrality;
Add more content to existing articles;
Check terminological conventions.
Gregory ("Greg") Louganis
(born January 29, 1960 in El Cajon, California) is an
American
diver who is best known for winning back-to-back Olympic titles in both the 3m and 10m diving events. He received the James E. Sullivan Award from the Amateur Athletic Union (AAU) in 1984 as the most outstanding amateur athlete in the United States. Louganis is of Samoan/Swedish descent and was raised in California by his adoptive parents, a Greek-American couple.
At age 16, Louganis took part in the 1976 Summer Olympics in Montreal, Canada where he placed second in the tower event, behind Italian Klaus Dibiasi. Two years later, with Dibiasi retired, Louganis went on to win his first world title in the same event.
LGBT Info:Birthdays/July From Wikipedia, the free encyclopedia < Portal:LGBT‎ | Selected anniversaries
Jump to navigation Jump to search
1 – Charles Laughton (1899–1962), English-American actor, screenwriter, producer, and director 1 – Louis Joseph, Duke of Vendôme (1654-1712), French military commander 1 – Orlando Cruz (1981–), Puerto Rican professional boxer 2 – Daniel Kowalski (1975–), Australian freestyle swimmer 2 – Johnny Weir (1984-), American figure skater, 2008 World Bronze Medalist 2- Sylvia Rae Rivera (July 2, 1951 – February 19, 2002) Civil Rights activist who advocated for Transgender rights 4 – Stephen Boyd (1931–1977), British actor 4 – Steven Cojocaru (1970-), Canadian fashion critic/TV personality 5 – Jean Cocteau (1889–1963), French poet, artist, and director 5 – Megan Rapinoe (1985–), American professional soccer midfielder 5 – Hein Vos (1903-1972), Dutch politician and economist, first gay member of Cabinet of the Netherlands 6 – Merv Griffin (1925–2007), American television host, musician, actor, and media mogul 6 – Frida Kahlo (1907–1954), Mexican artist 7 – George Cukor (1899–1983), American film director 7 – Kirsten Vangsness (1972–), American actress 8 – Silvia Modig (1976-), Finnish politician, radio and TV journalist 9 – David Hockney (1937–), English painter and photographer 9 – Kelly McGillis (1957–), American actress 10 – Angel Haze (1991–), American rapper and singer 10 – Alexandra Hedison (1969–), American photographer and actress 10 – Marcel Proust (1871–1922), French novelist 10 – Fiona Shaw (1958–), Irish actress and theatre-opera director 11 - Giorgio Armani (1934-), Italian fashion designer 11 – Leisha Hailey (1971–), American actress and musician 11 – Dorothy Wilde (1895–1941), Anglo-Irish socialite, niece of Oscar Wilde 12 – Van Cliburn (1934–2013), American pianist 12 – Michelle Rodriguez (1978–), American actress 12 – Kyrsten Sinema (1976-), American congresswoman (Arizona) 13 – Mary Emma Woolley (1863-1947), American educator, peace activist & women's suffragist 14 – Randy Boissonnault (1970-), Canadian politician 14 – Ferdinando II de' Medici, Grand Duke of Tuscany (1610-1670), Italian aristocrat 14 – Jane Lynch (1960–), American actress 15 – David Cicilline (1961-), American Democratic congressman (Rhode Island) 15 – Allison Brewer (1954-), Canadian social activist and politician 15 – Olly Alexander (1990-), British singer (Years & Years) 16 – Reinaldo Arenas (1943–1990), Cuban poet, novelist, and playwright 16 – Tony Kushner 1956-), American playwright and screenwriter 17 – Charles Lapointe (1944-), Canadian business executive and politician 18 – Elio Di Rupo (1951–), Prime Minister of Belgium 18 – Lillian Faderman (1940–), American scholar, historian and writer 19 – Joseph Hansen (1923–2004), American crime writer and poet 19 – Jaiyah Saelua (1988-), Samoan international football player 20 – Roberta Achtenberg (1950-), American federal politician & civil rights attorney 20 – Rokas Žilinskas (1972-), Lithuanian journalist and politician 21 – Rufus Wainwright (1973–), American/Canadian singer-songwriter 22 – Emily Saliers (1963–), American singer-songwriter and member of Indigo Girls 23 – John Mulholland (1940–), American writer and director, film historian 24 – Gus Van Sant (1952–), American director 24 – Anna Paquin (1982–), New-Zealand Actress 25 – Christine Quinn (1966–), American politician, former Speaker of the New York City Council 26 – Nikki Sinclaire (1968-), English politician, UK's first openly transgender parliamentarian 28 – Judy Grahn (1940–), American poet 29 – Dag Hammarskjöld (1905-1961), Swedish diplomat & 2nd Secretary-General of the U.N. 29 – Paul Taylor (1930–), American choreographer 30 – Sean Patrick Maloney (1966-), American Democratic congressman (New York) 30 – Pascal Smet (1967-), Belgian politician 31 – Barbara Gittings (1932–2007), American gay rights activist

2018:


Jan 21-28: Whistler Pride and Ski Festival (Whistler, BC)
2020:


Apr 24: Day of Silence


Aug 13-23: Vancouver Queer Film Festival (Vancouver, BC)


Aug 15-16: Flame Con (New York, NY)(site,Twitter)


Oct 1-4: 2020 InterPride & EPOA AGM & InterPride World Conference (in Oslo) (EPOA = European Pride Organisers Association)(EPOA website)
(international) Oct 11: National Coming Out Day
2021:



Aug 12-22: WorldPride (Copenhagen and Malmö)(Wikipedia)
2021 TBA:


Mar?: OutlantaCon (Atlanta, GA)
2022:


Nov: Gay Games 11
TBA:


Mar?: QueerFest Finland (Twitter)


Apr?: GaymerX East 2 (NY,NY?)


Apr?: GX Australia(Twitter)


? Oct?: Gaylaxicon (Minneapolis, Minnesota?)


Oct?: GaymerX (California)

Nov?: GFest/Gaywise Festival 13 (London)
defunct?:


Nijicon (Philadelphia, PA)