Line 3:
Line 3:
 
 
 

==Common/popular Flags==

 

==Common/popular Flags==

−

[[File:940636D5-2751-419F-A6E6-C494B3D82CE8.png|thumb|left]]This flag is commonly used as "the lesbian flag" however it was originally created as the lipstick/femme flag and later edited to remove the lipstick mark, as a result of this many lesbians feel it isn't completely representative.

+

[[File:940636D5-2751-419F-A6E6-C494B3D82CE8.png|thumb|left]]This flag is commonly used as lesbian flag and lesbians .

 

{{clear}}

 

{{clear}}

 

[[File:Ok lesbian.JPG|thumb|left|168x168px]]

 

[[File:Ok lesbian.JPG|thumb|left|168x168px]]

−

This flag is the new most commonly used flag. The orange encompasses butch lesbians and the pink for femmes, while the white encompasses trans lesbians.

+

This flag is lesbians, .

 
 
−

A new lesbian flag modeled after the seven-band "pink" flag was introduced on Tumblr in 2018, with colors dark orange representing 'gender non-conformity', orange for 'independence', light orange for 'community', white for 'unique relationships to womanhood', pink for 'serenity and peace', dusty pink for 'love and sex', and dark rose for 'femininity'. A five-stripes version was soon derived from the 2018 colors.

 
 

[[Category:Flags]]

 

[[Category:Flags]]
---
Revision as of 10:46, 20 May 2021
There has been much debate over what flag should represent Lesbianism, some of the most commonly used are edited versions of the lipstick lesbian flag and the labrys lesbian flag, however many other flags have been put forward.
Common/popular Flags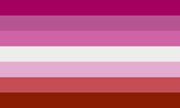 This flag is commonly used as the lesbian flag, and is used mainly by actual lesbians (women).
This flag is used mainly by non-women who identify as lesbians, despite having their own labels.