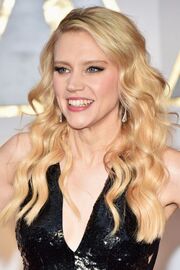 Kathryn McKinnon Berthold (born January 6, 1984) is an American actress, comedian and writer. She is known for her character work and celebrity impressions on the sketch comedy series The Big Gay Sketch Show (2007–2010) and Saturday Night Live (2012–present). McKinnon has appeared in films such as Balls Out (2014), Ghostbusters (2016), Office Christmas Party (2016), Rough Night (2017), The Spy Who Dumped Me (2018), Yesterday (2019), and Bombshell (2019).
McKinnon has been nominated for eight Primetime Emmy Awards, including one for Outstanding Original Music and Lyrics and seven for Outstanding Supporting Actress in a Comedy Series, winning in 2016 and 2017.
Early life
McKinnon was born and raised in the Long Island town of Sea Cliff, New York, to Laura Campbell, a parent educator, and Michael Thomas Berthold, an architect. She has a younger sister, comedian Emily Lynne, with whom she has collaborated on the Audible series Heads Will Roll, as well as digital series Notary Publix. Her father died when she was 18 years old. She is of German and Scottish descent.
As a child, McKinnon played several instruments. She started playing the piano when she was five years old, the cello when she was 12, and taught herself how to play the guitar when she was 15.
McKinnon's knack for accents began when she was in fifth grade. She auditioned to be "the queen of reading week" and used an English accent. In an interview with Rolling Stone, she says, "I think the genesis of my entire life, probably, was the smiles I elicited doing this British accent. I've been chasing that dragon ever since."
She graduated from North Shore High School in 2002, and from Columbia University in 2006 with a degree in theatre. There she co-founded a comedy group, Tea Party, that focused on musical improv comedy. At Columbia, she starred in three Varsity shows: V109 Dial D for Deadline, V110 Off-Broadway and V111 The Sound of Muses. She was also a member of Prangstgrüp, a student comedy group which set up and recorded elaborate college pranks.
Personal life
McKinnon was previously in a romantic relationship with photographer and actress Jackie Abbott. While presenting an award to Ellen DeGeneres at the 77th Golden Globe Awards in 2020, McKinnon opened up about being gay and thanked DeGeneres for making it less scary for her to accept her sexual orientation while watching her TV sitcom, Ellen. While attending Columbia University, she dated future journalist Bari Weiss.
McKinnon has a cat, Nino Positano—named for a pizza restaurant where he was found—whom she jokingly refers to as her son. McKinnon's love of cats has extended to her work: a lesbian cat adoption sketch on SNL; voiceover work on PBS' Nature Cat; and being cast in the big cat serial podcast as Carole Baskin. During the COVID-19 coronavirus pandemic, SNL at Home used skits from the cast's homes with McKinnon presenting a "bottom of the barrel" edition of "Whiskers R We" with Nino humorously disguised as all twenty adoptees.
She does not use social media, citing fear that she will "misrepresent her true feelings".