Tags: apiedit, Visual edit

 

 

(5 intermediate revisions by 4 users not shown)
Line 1:
Line 1:
 
+

[[File:Justin_Suarez.jpg|thumb|250px]]

 

'''Justin Suarez''' is a fictional character on the American comedy-drama series ''Ugly Betty'' which is an adaptation of the Colombian telenovela ''Betty la fea''. He is portrayed by actor Mark Indelicato. Justin lives with his mother Hilda, his aunt Betty, and his grandfather Ignacio. His biological father is Santos who is murdered in the finale of Season 1.

 

'''Justin Suarez''' is a fictional character on the American comedy-drama series ''Ugly Betty'' which is an adaptation of the Colombian telenovela ''Betty la fea''. He is portrayed by actor Mark Indelicato. Justin lives with his mother Hilda, his aunt Betty, and his grandfather Ignacio. His biological father is Santos who is murdered in the finale of Season 1.

 
 
Line 10:
Line 11:
 

[[Category:Ugly Betty characters]]

 

[[Category:Ugly Betty characters]]

 

[[Category:Fictional characters from New York City]]

 

[[Category:Fictional characters from New York City]]

−

[[Category:Fictional gay men]]

+

[[Category:Fictional gay ]]

 
+

[[Category:Live Action TV Characters]]

 
+

[[Category:LGBT characters played by LGBT actors]]
---
Latest revision as of 05:53, 11 January 2022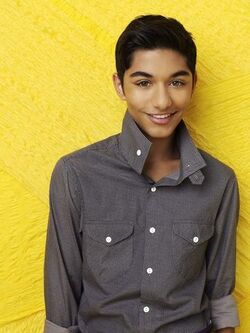 Justin Suarez is a fictional character on the American comedy-drama series Ugly Betty which is an adaptation of the Colombian telenovela Betty la fea. He is portrayed by actor Mark Indelicato. Justin lives with his mother Hilda, his aunt Betty, and his grandfather Ignacio. His biological father is Santos who is murdered in the finale of Season 1.
Justin is quite fashion conscious and exhibits model-like behavior, such as commenting on his own body image and being food conscious. His knowledge about the fashion industry, from reading MODE, where Betty works, and watching Fashion TV, is among the reasons his aunt influences him. Justin exhibits stereotypical gay behavior which propels some of the storylines including his involvement in performing arts. As a young teenager, his adolescent sexuality was still being developed in storylines until the end of the series. It is revealed in Season 4 that Justin is gay.
Slate magazine named the character as one of the reasons they were looking forward to the return of the show in fall 2007.
Sexual orientation
Prior to the character's coming out in Season 4, Justin was the subject of much media speculation concerning his sexuality, although there was never a definitive statement on the subject either on the show or from the show runners. A February 2007 piece in USA Today said on the subject, "Justin's sexuality has never been addressed on the show, but Betty creator Silvio Horta, who is gay and came out to his Cuban-American family at age 19, says the character will experience "the journey" as he matures. "I see myself in him," Horta says. "Growing up, I certainly felt like an outsider at times. But there's this sweet innocence in Justin that sees the positive." Horta later commented more definitively on Justin's sexuality, saying, "[Justin]'s twelve and we want to let things proceed as they would normally. There's so much to explore with this kid as he comes into adolescence and what it would be like if he were gay...which he probably is."
Indelicato has said about Justin, "My fan mail is mostly kids, especially kids that don't really fit in and people don't really understand them. They go, 'Thank you, because you're helping me to be understood by my peers,' and anybody else who doesn't understand them." He has also said that he avoids websites, forums and blogs about the show because of the negative feedback and remarks made towards his character on the show. Ana Ortiz, who plays Hilda, said "One of my absolute favorite character traits of Hilda is that she feels that as long as he's happy, I'm happy. I'm not going to change him, I'm not going to judge him. He's happy. How many people can say they have a happy, well-adjusted kid? Not many. So she's like, 'If it's not broke.'"