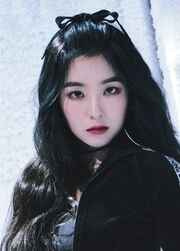 Irene아이린/Bae Ju Hyun배주현 is a member of the K-pop group Red Velvet born March 29, 1991.
Lesbian Features
She has outright expressed attraction for women on multiple occasions.
Irene's favorite color is purple, and there's a special reason why,during Irene's birthday party at SM Communication Center, Irene confessed that when she was in high school she couldn't make friends easily, but in her 2nd year, there was this female student who transferred in the class next door, she said: "There was something good about her even though i haven't actually spoken to her yet, i just saw her and i like her so much, that's why even if i don't like borrowing things like gym clothes, i borrowed one from her...i just had to...i asked her 'what's your favorite color?' She said 'purple is good'. So, since then, my favorite has been purple too, it's a new special color".
A common joke among Reveluvs (Red Velvets fandom name) is that Irene hates men, and sometimes she does give off that vibe. She always look shocked and disgust whenever shes around them.