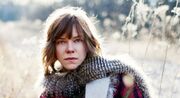 Iliana Regan has redefined the Chicago dining scene with her mini empire of restaurants that includes the Japanese spot, Kitsune, and a critically acclaimed tasting menu that pulls from her creativity and fondness for foraging, Elizabeth. Regan also has two books coming out, including a memoir called Burn the Place. A fun fact: The chef is very into pop culture and theme menus — she's done dinners around both Game of Thrones and Downton Abbey.  
How she's helping the LGBTQ community
Before Elizabeth was the high-profile spot it is today, it was an underground supper club that drew in a very large LGBTQ clientele — Regan even threw a special Valentine's Day dinner every year. Though Elizabeth is not a secret anymore, both it and Kitsune are still well-known watering holes for the LGBTQ community in Chicago.
What she's doing for Pride: "We close both Kitsune and Elizabeth for Pride since my restaurants have quite a mix of gender and queerness and everyone wants off to celebrate — so we just consider it a holiday. I will be going with my girlfriend to Pride."