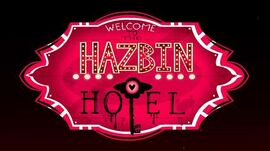 Hazbin Hotel is an American adult animated musical black comedy web series created, directed, and produced by Vivienne "Vivziepop" Medrano.[1][2][3] On May 26, Medrano announced the official series release date to be October 5, 2019; the actual release date for the pilot episode was October 28, 2019. On November 6, 2019, Medrano stated on Patreon that there was no stated release date for a second episode yet.[4] By August 2020, the show had developed a dedicated fanbase, with the thirty-minute pilot receiving 32 million views as of that same date.[5]
The series' protagonist, a charismatic demon named Charlie, is the princess of Hell, and has the mission to rehabilitate sinners in the titular "Hazbin Hotel" as a peaceful solution to the current overpopulation crisis.
On August 7, 2020, it was announced that Hazbin has officially been picked up for a TV series by A24, but any information on the production or any proposed release date remains yet to be revealed.[6]
LGBT Cast and Crew
Cast
Crew
LGBT Characters
Lesbian
Gay
Bisexual
Pansexual
Asexual
Queer
References