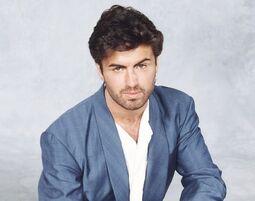 Georgios Kyriacos Panayiotou (June 25, 1963 – December 25, 2016), known professionally as George Michael, was an English singer, songwriter, and record producer who rose to fame as a member of the music duo Wham! He is best known for his work in the 1980s and 1990s, including hit singles such as "Last Christmas" and "Wake Me Up Before You Go-Go", and albums such as Faith (1987) and Listen Without Prejudice Vol. 1 (1990).
Michael sold more than 100 million records worldwide. His debut solo album, Faith, sold more than 20 million copies worldwide. Michael achieved seven number one singles in the UK and eight number one hits on the Billboard Hot 100 in the US, including "Careless Whisper" and "Freedom! '90". He ranks among the best-selling British acts of all time, ranked by Billboard magazine as the 40th-most successful artist ever. Michael won various music awards throughout his 30-year career, including three Brit Awards—he won Best British Male twice, four MTV Video Music Awards, four Ivor Novello Awards, three American Music Awards, and two Grammy Awards from eight nominations. Michael, who came out as gay in 1998, was an active LGBT rights campaigner and HIV/AIDS charity fundraiser.
In 2004, the Radio Academy named Michael the most played artist on British radio during the period 1984–2004. The documentary A Different Story (released in 2005) covered his career and personal life. Michael's first tour in 15 years, the worldwide 25 Live tour, spanned three tours over the course of three years (2006, 2007, and 2008). In the early hours of December 25, 2016, Michael, aged 53, was found dead in bed at his Oxfordshire home.
Early life
Michael was born in East Finchley, London, England. His father, Kyriacos Panayiotou, a Greek Cypriot restaurateur, moved to England in the 1950s and changed his name to Jack Panos. Michael's mother, Lesley Angold (née Harrison; 1937–1997), was an English dancer. His maternal grandmother was Jewish and hid her faith from her own children to keep them safe during World War II. Michael spent the majority of his childhood in Kingsbury, London, in the home his parents bought soon after his birth; he attended Kingsbury High School. His older sisters are Yioda and Melanie.
While he was in his early teens, the family moved to Radlett, Hertfordshire. There, Michael attended Bushey Meads School in Bushey, where he befriended his future Wham! partner Andrew Ridgeley. The two had the same career ambition of being musicians. Michael busked on the London Underground, performing songs such as "'39" by Queen. His involvement in the music business began with his working as a DJ, playing at clubs and local schools around Bushey, Stanmore, and Watford. This was followed by the formation of a short-lived ska band called The Executive, with Ridgeley, Ridgeley's brother Paul, Andrew Leaver, and David Mortimer (later known as David Austin).