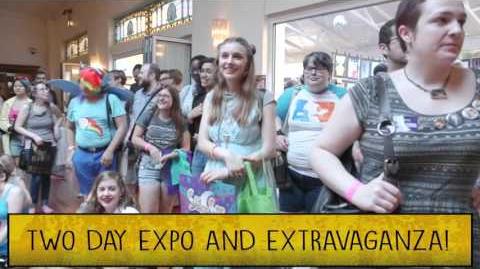 Flame Con is a two-day comics, arts, and entertainment expo showcasing creators and celebrities from all corners of LGBTQ geek fandom. It features thoughtful discussions, exclusive performances, screenings, costumes, and more! The event is presented by New York's GEEKS OUT non-profit group. 
Geeks of all types are invited to attend and celebrate the diversity and creativity of queer geekdom and LGBTQ contributions to pop culture. 
1st Flame Con (2015)
The first Flame Con, held in June 2015, brought together the queer fan community on an unprecedented scale. Drawing over 2,200 visitors to the one-day convention, FLAME CON was the largest queer-focused pop culture expo ever held in New York. Over one hundred creators and media favorites exhibited their talents, while fans and attendees brought fantastic energy to the event, all eager to be part of a comic convention catering especially to queer tastes in comics, games, books, art, and entertainment. In New York City, #FlameCon trended on Twitter for five solid hours, and the event received glowing reviews from io9, The Mary Sue, Comic Book Resources, and more, all applauding the tremendous convergence of diversity, positivity and creativity.        
Flame Con 2 (2016)
Flame Con's 2016 event was held[1] on August 20th and 21st, expanding to a larger venue (the New York Marriott at the Brooklyn Bridge)[2] and features a second day to accommodate more guests, more performances, more panel discussions, and of course, more cosplay! The weekend expo, FIRESTARTER, will be preceded by a kick-off celebration on Friday, August 19.
Special guests include Cecil Baldwin, Daniel Ketchum, David Levithan, Greg Pak, James Romberger, James Tynon IV, Jay Justice, Jenne Wood, Jill Pantozzi, K Perkins, Kate Leth, Kevin Wada, Kris Anka, Margueritte Bennett, Marguerite Van Cook, Matthew Waterhouse, Max Wittert, Phil JImenez, Sarah Donner, Sophie Campbell, Steve Orlando, Terry Blas, and Ulises Farinas.
Flame Con 3 (2017)
Flame Con 2017 event was held[3] on August 19 and 20,[4] at the New York Marriott at the Brooklyn Bridge.[5]
References
External links