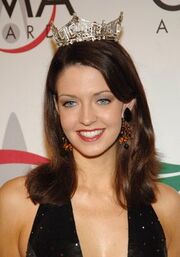 Deidre Downs Gunn (born July 7, 1980) is an American physician and former beauty pageant titleholder. Downs was Miss Alabama 2004 and later was crowned Miss America 2005.
Personal life
After Downs married her college sweetheart, Andrew Gunn, in March 2008, she changed her name to Deidre Downs Gunn. They had a son in 2010. The couple later divorced.
Downs remarried in 2018 in a private ceremony at the Birmingham Museum of Art in Birmingham, Alabama. Her wife, Abbott Jones, is an attorney and writer. Downs is the first former Miss America national titleholder to enter a same-sex marriage.