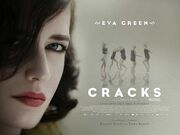 Cracks is a 2009 British independent psychological thriller drama film directed by Jordan Scott, starring Eva Green, Juno Temple, María Valverde, and Imogen Poots. It was released theatrically in the United Kingdom and Ireland on 4 December 2009. In the United States, it was released by IFC Films theatrically on 18 March 2011 and premiered on television on Showtime as part of an ongoing pay television broadcast deal with IFC later in the year.
The film was produced in May 2008, written for the screen by Caroline Ip, Ben Court and Jordan Scott, based on the 1999 novel written by Sheila Kohler. Kwesi Dickson, Andrew Lowe, Julie Payne, Rosalie Swedlin and Christine Vachon were the producers. Ridley and Tony Scott served as executive producers. The film was mostly filmed in County Wicklow, Ireland.
Summary
Set in the 1930s in a strict elite British boarding school called St Mathilda's, the story centres on a clique of girls who idolise their enigmatic diving instructor, Miss G (in the film, we learn that Miss G had been a student at the same school where she now works and may even have continued on at the school after she graduated). Di Radfield has a crush on Miss G, and is the firm favourite and ringleader of her group. When a beautiful Spanish girl named Fiamma Corona arrives at the school, Miss G's focus is shifted away from the other girls. It becomes a triangle: Miss G gets increasingly obsessed with Fiamma, Fiamma is disturbed by Miss G and also openly disgusted by the teacher's hypocrisies and deceptions, and Di is terribly jealous and makes Fiamma's life hell.
Miss G (who claims to be a world traveller) goes to a nearby parochial town to buy some provisions. She draws the unwanted attention of some local louts and is visibly upset and in a near-panic when she returns to the school.
Dia and Fiamma begin to develop a friendship. Fiamma faints at a dorm party, and Miss G takes her to her own room.