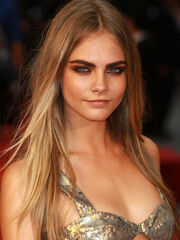 Cara Delevingne is an English model, actress and singer born 12 August 1992.[1]
Gayness Features
After a year of dating, Cara Delevingne has gone public with her relationship with actress Ashley Benson.
Over the weekend, Delevingne took to Instagram to share a clip of the couple kissing in a scene from the movie starred in together, Her Smell.
In her caption, Delevingne simply used the hashtag, "#PRIDE" along with plenty of rainbow, heart and heart-eye emojis.
References