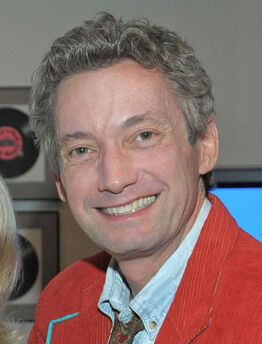 Cameron Arthur Clarke (born November 6, 1957) is an American voice actor and singer, known for his voice work in animation, video games and commercials. He is best known for providing the voices of Leonardo and Rocksteady in the original Teenage Mutant Ninja Turtles animated series and Shotaro Kaneda in the 1989 original Streamline Pictures English dub of Akira. He often voices teenagers and other similarly young characters. One of his prominent roles in video games was voicing Liquid Snake in the Metal Gear series.
Personal life
Clarke was born in 1957 in Burbank, California, to actor Robert Clarke and singer Alyce King. He is nephew to guitarist Alvino Rey and pianist Buddy Cole, cousin to actress Tina Cole and writer Chris Conkling, half brother to musicians Ric and Lex de Azevedo, and uncle to voice actress Emilie Brown and actress Rachel Coleman.
He is openly gay.[1] His experiences inspired his album Inside Out, which changed pronouns in lyrics of classic songs,[2][3] and his one-man autobiographical play Stop Me If I Told You This.[4][5]
References
Links