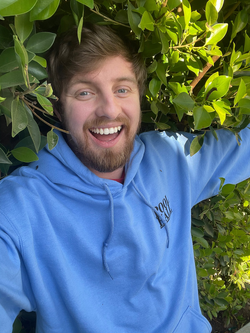 John Jacob Rabon IV (born: December 19, 1995), better known online as Alpharad, is an American YouTuber who is known for creating highly edited videos of gameplay with humorous and observational commentary.
Alpharad's content is mainly Super Smash Bros. Ultimate, Among Us, Rivals of Aether, and more. He has a few ongoing series such as the "Not series" where he finds off-brand version of games like Overwatch, Pokemon, and most recently, Among Us. He has collaborated with many creators as of late such as Jaiden Animations, RubberNinja, JoSniffy, and Failboat.
Sexuality
Alpharad off-handedly came out as bisexual in a Super Mario Maker video uploaded on June 15th, 2020 at 13:15. He says it's something that he feels confident in and that being straight was just considered a "bit".